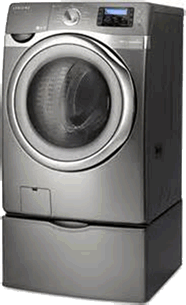 Most washer problems can be initially trouble-shot by looking at the owner's manual. But, if the issue gets complicated than that, and problem runs deep from drive belts and motors to thermal switches, then you need professional assistance from one of our washer repair technicians.
We'll set up an appointment with one of our local repair experts who combine extensive training with years of experience spent repairing major washing machine brands such as Samsung, LG, GE, Kenmore, Amana and more. Schedule an appointment now.
Here are some of the most common problems we encounter when repairing washing machines:
Washer error code flashing repair
Washer drain pump repair
Washer spinning mechanism repair
Washer agitation mechanism repair
Washer loud or making strange noises repair
Samsung washer is rocking due to poor alignment repair
Washer repair due to leakage from Monogram washer
Thermador washer repair
Faulty gentle cycle on Bosch washer
Whirlpool washer repair
Washer leaking repair
Cycle not advancing on washer
Faulty temperature on Samsung wash or rinse cycle
Faulty pump mechanism on Monogram washer
Not filling, over filling, or not enough water
The machine is not working at all!
When your washer is not working it can be a huge inconvenience to you and your family. Not only is not being able to wash your clothes a problem but a malfunctioning appliance can ruin your clothes! Don't buy a new appliance if you don't have to. Allow us to fix and maintain your existing washer and save you money…
We Provide Washer Repair Service On
Amana Washer, Bosch Washer, Dacor Washer, Electrolux Washer, Fisher Paykel Washer, Frigidaire Washer, GE Washer, Hotpoint Washer, Jenn Air Washer, Kenmore Washer, Kitchenaid Washer, Lg Washer, Magic Chef Washer, Maytag Washer, Miele Washer, Samsung Washer, Tappan Washer, Whirlpool Washer and more…
Washer Repair Tips
Leave washing machine door open when not in use to prevent odors and mold build up underneath door seal. If this is already an issue, a product called washer magic can help eliminate some of these washer odors.

Your Satisfaction is Guarantee
If your unit breaks down for any reasons related to the original repair in 90 day period, we will replace any original parts that failed due to defects and workmanship, FREE. Also, any labor associated to that repair is FREE.