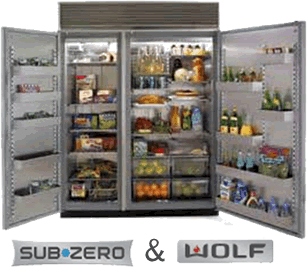 Sub-Zero and Wolf pioneered are mostly built-in refrigeration systems. They make the most sophisticated, stylish and expensive food preservation systems.
The first step when it breaks down is to look at the owner's manual. Stop repetitive on-off cycles by vacuuming out the condenser coils, and diagnose leaks by checking the ice maker shutoff valve. We are trained to address major concerns, and are familiar with every type of these high-end units such as Sub-Zero Refrigerators, Sub-Zero Freezers, Sub-Zero Wine Coolers, and Sub-Zero Ice Machines. Schedule an appointment now.
Most Common Issues on Sub-Zero & Wolf:
Sub-Zero evaporator fan motor stops running or too noisy.
Sub-Zero defrost drain is clogged and leaking.
Sub-Zero thermostat is malfunctioning.
Leaking Sub-Zero drain pan or has a bad odor.
Sub-Zero freezes food in a Fresh Food Compartment.
Sub-Zero ice maker stops making Ice
Sub-Zero water filter needs replacement or its leaking
Sub-Zero defrost heater stops working Ice buildup.
Sub-Zero condenser fan motor stops running or too noisy
Sub-Zero compressor too noisy
Sub-Zero stops cooling.
Steps Appliance Repair also repairs: Northland, Traulsen, Viking, GE Monogram, Kitchen/Aid built-in Refrigerators, Freezers, Ice Machines and Wine Coolers. 

Your Satisfaction is Guarantee
If your unit breaks down for any reasons related to the original repair in 90 day period, we will replace any original parts that failed due to defects and workmanship, FREE. Also, any labor associated to that repair is FREE.